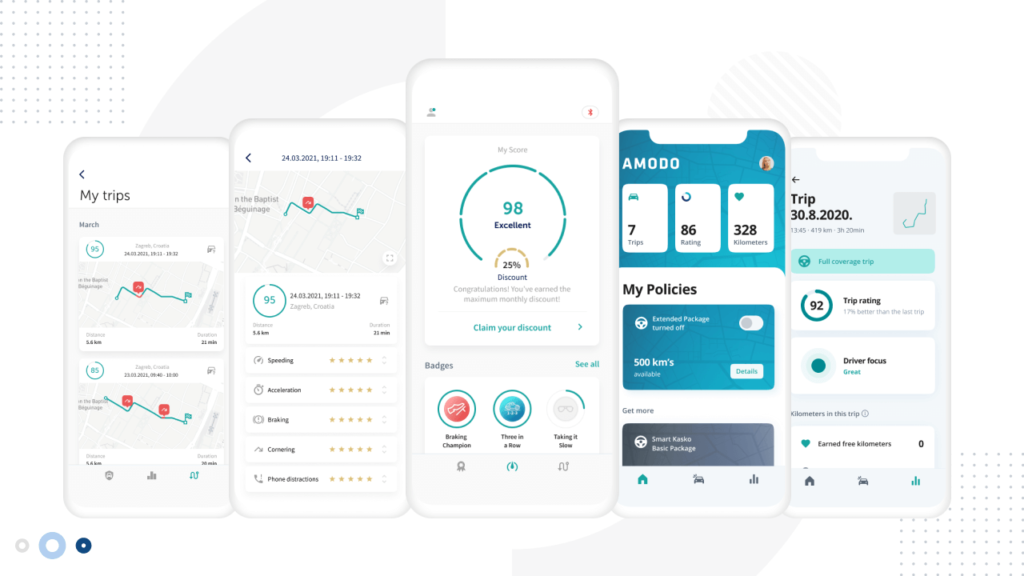 Amodo is an Insurtech company on a mission to disrupt the insurance industry. By turning users' smartphones into robust telematics sensors, the Amodo connected insurance platform enables insurers to deliver tailor-made products by gathering and contextualising behavioural data.
With its advanced technology, Amodo allows drivers to adjust the insurance cost to their driving habits with the help of their smartphones. By offering new insurance models like Pay How You Drive and Pay As You Drive, Amodo sets new Insurance Telematics standards already followed by several Insurance Companies globally, including P&V, AIG, Porsche, and BNP Paribas. 
The Amodo platform enables insurance carriers and brokers to create usage-based products built on insurance telematics. To find out more or request a demo, visit amodo.eu or get in touch with the team. 
Trax Matching plays a crucial part in telematics applications for driver behaviour analysis. Its proprietary algorithm identifies the actual routes followed by vehicles by snapping their GPS traces to the correct roads, regardless of the accuracy or scarcity of the original GPS data. Trax Matching cloud service is scalable and accessible through a simple snap to road REST API and can be integrated into applications within minutes.
Trax Matching offers fast performance and unique features, wrapped up in a highly competitive package, with both real-time and offline versions available. 
Trax Matching is proud to be supporting Amodo since 2014. Alongside Usage-Based Insurance, our solution is also used by customers from multiple sectors, including Mileage Tracking Apps, Fleet Telematics, Family Tracking Platforms and Digital Out Of Home Advertising. 
To find out more, email us or to see a demo with your own data or sign up for a free trial, visit our Developer site.